Rally to Cuba
Come experience Cuba from land and sea!
April 19 - 28, 2018
Tantalizingly close but frozen in a bygone era, Cuba's cobble stone streets and deep-rooted culture are as inviting as the people. Experience this special moment in history where you can still explore a place that has remained isolated and untouched by the mass tourism and foreign involvement. Join South Coast Sailing Adventures on this Rally to Cuba! This is a unique people-to-people flotilla with round-trip sailing from Key West, Florida to Havana, Cuba. Experience Cuba both from land and sea!
Experience sailing at its best! This trip is a fantastic opportunity to make two 100-mile Gulf Stream crossings and add excellent offshore experience to your resume. You will gain valuable passagemaking experience, practice night sailing and watch keeping, fine-tune your navigation skills and sail in potentially new conditions for your skill set.
Click here to learn more or to register.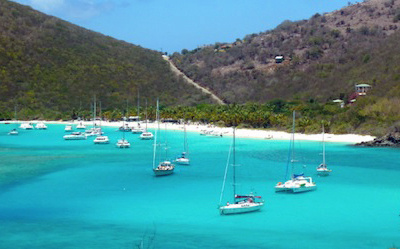 British Virgin Islands, Caribbean
Discover why they call them Nature's Little Secrets!
June 7 - 17, 2018
Explore the British Virgin Islands, a sailing mecca! There is no better opportunity than our annual flotilla to expand your sailing skills, navigate to idyllic shores, and of course, experience the epitome of vacation perfection. The charm of the BVI's lies in discovering the unique character of each pristine island in this volcanic archipelago.
With lively culture and history on the four main islands topped only by the picturesque splendor of the 50+ smaller isles, every stop offers its own special magic. Find your "sit-back-and-relax" mode on Tortola; experience the mesmerizing adventure of Virgin Gorda's natural granite pillars or marvel at the rugged scenery and colorful folklore of Jost Van Dyke. Escape the winter weather and sail away with us!
Click here to learn more or to register.
San Juan Island Flotilla, Pacific Northwest
Say hello to the mellow vibes of the San Juan Islands!
June 23 - 29, 2018
The San Juan Islands, an archipelago in the U.S. state of Washington known for rural Pacific Northwest landscapes and wildlife, is distinguished by lively seaside towns and a laid-back mellow vibe. The 172 named islands and reefs in San Juan County make up an area known for its pristine air quality, crisp temperatures and natural beauty beyond compare. Join South Coast Sailing Adventures aboard a luxurious monohull vessel as we visit horseshoe-shaped Orcas Island, Friday Harbor, and the old-growth forest of Moran State Park.
Planned stops also include Lummi Island, Vancouver Island, San Juan Island, Lime Kiln Point State Park, and many quaint island towns featuring idyllic anchorages. This amazing opportunity for sailing, seamanship, adventure and exploration includes optional group activities such as campfires, potlucks, group dinners, a hosted reception and impromptu sailboat races.
Harvest Moon Regatta, Texas Gulf
Join us for "A Howling Good Time!"
October 24-31, 2018
The event once dubbed "A Howling Good Time" by Cruising World is back! Founded in 1987, the annual Harvest Moon Regatta event has grown from just under 20 boats to over 200—and we are proud of our South Coast Sailing Adventures teams who have placed in the top 3 winners for their class over the years! The 150-nautical mile race begins at the Flagship Hotel Pier in Galveston and follows the Texas coast to Port Aransas over the course of 2 days and 2 nights, when the night sky is dominated by the beautiful harvest moon. It's the perfect opportunity to gain offshore sailing experience or add to your sailing certifications.
In addition to a trip down the coast, sailors will enjoy a barbeque banquet in Port Aransas, a Race Finish Party, and the Rum Mary Party. Everyone is invited to participate as a crew member; however, we are also offering ASA 103/104 Combo (Basic Coastal Cruising & Bareboat Chartering) and ASA 106 (Advanced Coastal Cruising) during this event.*
*All prerequisites for ASA courses must be completed prior to October 1, 2017.
*ASA 101 is required for ASA 103/104 certification. *ASA 101, 103, 104 & 105 are required for ASA 106 certification.